Shutter meets Cloud
We are happy to announce the release of Shutter 0.86.3.
Ubuntu One
Shutter 0.86.3 adds support for Ubuntu One, a cloud service by Canonical. Check out this video to see how uploading works:
Ubuntu One allows you to publish your files easily while always keeping control over all of your files.
Note: It only works with Ubuntu 10.04 (Lucid Lynx) or later. Additionally you need the package libnet-dbus-glib-perl to use it. If you have added our PPA, you can install the package via terminal – go to the downloads page otherwise:
sudo apt-get install libnet-dbus-glib-perl
New Icons
In case are using the latest Ubuntu release (10.04 – Lucid Lynx) with its new default theme, you will also appreciate the new icons (ubuntu-mono) that come with this version of Shutter – thanks to Duncan Lock.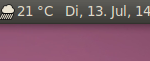 Image Hosting
The (very reliable) image hosting service ubuntu-pics.de was discontinued (too much spam) so we removed this service from Shutter. Imagebanana.com and imageshack.us were broken as well and should work again now.
How to Get it
If you've subscribed to the Ubuntu repository, you'll be prompted about an update being available automatically – otherwise, check the downloads page for individual packages. Maintainers of other distributions will be notified, so updates for that will be available soon.
Changelog:
  * New features
    -- Publish via Ubuntu One
    -- New humanity icons (ubuntu-mono-dark and ubuntu-mono-light)
  * Fixed bugs / minor improvements
    -- LP: #361971
       [Rename Redo to Retry in upload failure dialog]
    -- LP: #506181
       [Would like integration with Ubuntu One]
    -- LP: #552842
       [function to hash the file name]
    -- LP: #577040
       [Add a --version command line argument]
    -- LP: #582134
       [Cannot export photos to imageshack]
    -- LP: #610042
       [Ubuntu-pics.de is dead]
    -- LP: #610784
       [Cannot export photos to imagebanana]
  * updated translations
Enjoy this release!