Shutter 0.85 released – get it now!
The time of waiting is over – after 15 weeks of development we are happy to announce the release of Shutter 0.85. A long list of new features and improvements is waiting to get explored by you…
Undo / Redo anywhere
Shutter now supports undo / redo functionality within the main program.
If you don't like the effect that was applied by one of Shutter's plugins you can now easily revert to the last version. You file was modified by an external app while opened with Shutter? No problem – Shutter will recognize the changes and you can simply use Shutter's undo method to go back in time.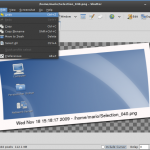 Drag and drop pics into Shutter
Tired of using the old-school file dialogs to open your files with Shutter? You can now simply drag any supported file to Shutter's main window and Shutter will open it. The same goes for the internal Drawing Tool.
If you already have an image in the clipboard you can import it by pressing Shift+Ctrl+v (or use the related menu item unter File → New → Import from clipboard).
Capture menus and tooltips
Shutter now has options for specifically capturing a menu or a tooltip, making it much easier. A video says more than a thousand words here…
Many UI improvements
To make Shutter even more usable and intuitive we have reworked the UI on many places. When you wan to change the delay quickly, you can now do that by activating it in the statusbar of Shutter's main window without entering the preferences dialog as in the old days. The same does apply for the cursor setting and switching between profiles.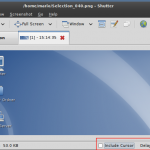 We've also reorganized the preferences dialog to achieve a more consistent look and logical structure. Additionally there are many new options to give you the opportunity to use Shutter the way you want.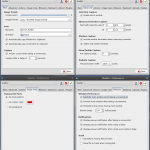 Improved Advanced Selection Tool
Shutter does provide two different tools to capture a region of your screen. The Simple Selection Tool and the Advanced Selection Tool. Both have unique features and a different way of usage. One of the features provided exclusively by the Simple Selection Tool was the zoom window. It was not implemented in the other tool because it has its own zooming mechanism.
In this version you'll be able to use the zoom window in the Advanced Selection Tool as well. Additionally the zoom window should react much faster to the mouse movements now. It hides automatically if it is in the way but you can even activate / deactivate it by hitting the <Space> key on your keyboard.
There is also a new dialog that allows you to enter the width, height, X and Y position of the selection manually.
Improved Window Selection
Most parts of the window selection functionality were rewritten in order to make it more comfortable. You'll see a nice animated effect when hovering with your mouse over the windows on your desktop displaying the window title and geometry of the currently selected window. Convince yourself…You simply have to try it!
Note: You need to activate visual effects to get the animation – the window information (name and geometry) is available for all settings.
Notifications
Shutter is now able to use the system's notification architecture to display some information, e.g. delay, pre-delay and save messages. The current implementation supports all architectures that implement the
org.freedesktop.Notifications specification (e.g. Ubuntu's Notify-OSD).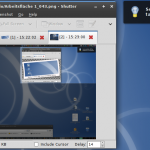 Send screenshots via email or instant messenger
You can now send any of your screenshots by email using your local email client (thx to José Borges Ferreira for sending a patch)…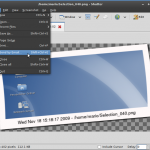 …or use the 'nautilus-sendto' dialog if it is available on your system to send it to various targets (e.g. instant messenger).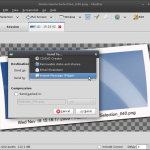 Shutter registers itself as an app to open images with
Last but not least -  Shutter registers itself as an application to open images with so you can open images with Shutter directly from the file manager of your choice.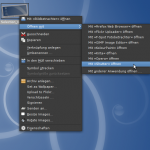 @translators: We have changed a lot of the translatable strings within Shutter which means a lot of work for you guys. Please don't blame us

As with everything else, bugs were fixed and we're already planning for the next version, 0.86. We hope you enjoy this release!
Detailed changelog is available here.